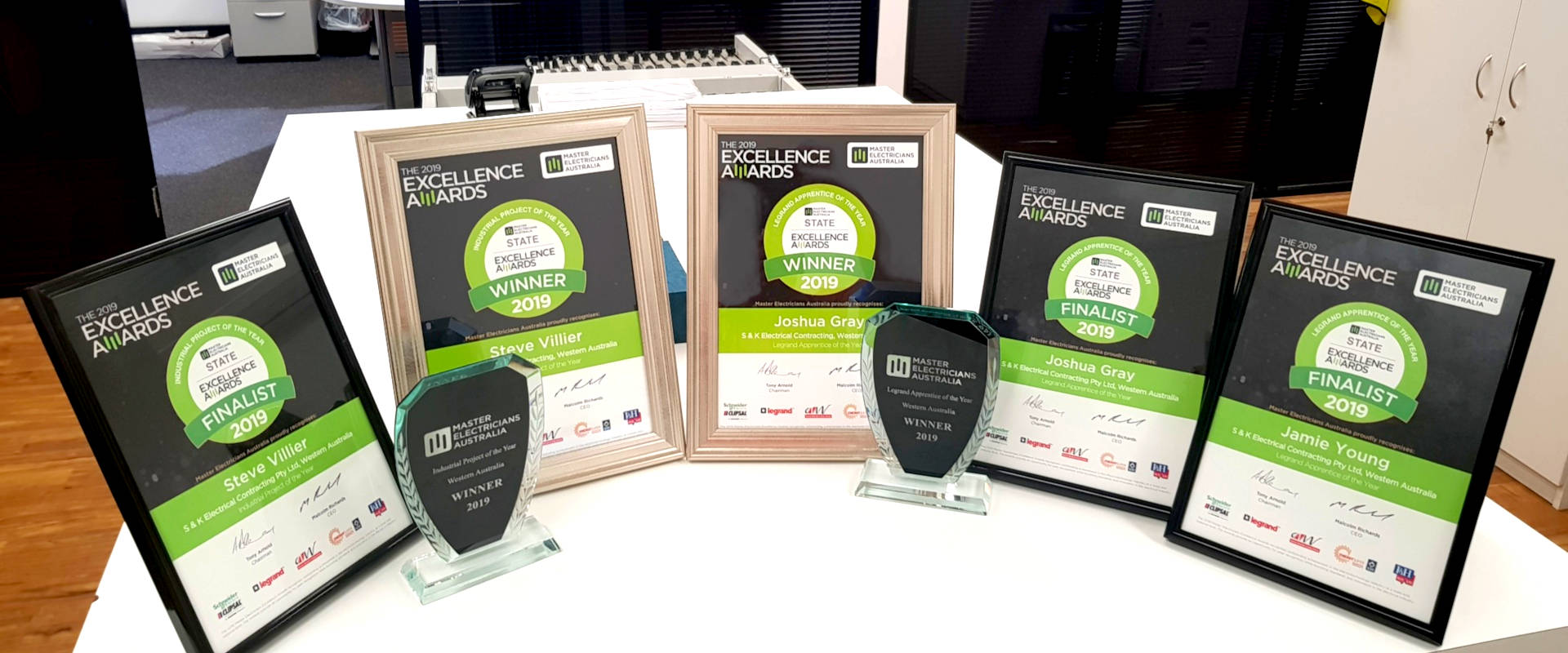 08 Jan

Winners Master Electricians State Excellence Awards 2015

WINNERS MASTER ELECTRICIANS STATE EXCELLENCE AWARDS 2015
Posted on: Thursday, 3 September 2015 at 12:00:00 AM

Geraldton electrical firm takes two out of six categories at prestigious state awards

A remote electrical substation and power station installation at the Top Iron Pty. Ltd. Mummaloo Mine Site plus one a modern sleek and contemporary home in Geraldton, these don't have too much in common.

However, each one's innovative and complex electrical installations have earned S & K Electrical Contracting Pty. Ltd. top gongs at Master Electricians Australia's (MEA's) State Excellence Awards, with S & K Electrical Contracting Pty. Ltd. winning both the Industrial/Mining Project and the Residential Project of the Year Awards WA.

S & K's Steve Villier and the team are no strangers to winning, after taking out the Commercial Project of the Year, for the Geraldton "Eastern Breakwater Project" at last year's national titles in Queensland.

"Any award is so greatly appreciated, it's especially significant to be recognised by a panel of your peers and to stand in front of the other nominees and collect the awards," Steve Villier said.

"We had team of 50 staff that were dedicated to both the jobs. These were great projects with very good clients assisting to reach the final outcome" he said.

The judging panel, led by Schneider Electric WA Manager Steve Reinholdtsen, said this year's submissions were of an incredibly high standard, with S & K Electrical Contracting Pty. Ltd. proving a standout.

"This is the first year that I have been involved with the judging panel and I have been presently surprised with the high standard of submissions, the passion shown by the nominees towards there staff and the sustained profitability of our electrical industry," Mr Reinholdtsen said.

"With the Residential Project of the Year", S & K Electrical Contracting Pty. Ltd. pushed the boundaries of what would be considered to be a normal residential building in Geraldton, and showed a passion and a commitment to deliver a high standard project with the latest technology implemented," he said.

Both projects shared a strong sense of environmental sustainability, as S & K Electrical Contracting Pty. Ltd. angled towards environmental sustainability, and the use of cost effective techniques to maximise the use of energy on site.

"A strong regional business, S&K Electrical Contracting Pty. Ltd. has strived to deliver a high level of customer satisfaction in a remote environment using local content and workforce," he said.

S & K Electrical Contracting Pty. Ltd. will now take on other state winners from across the nation at the Master Electricians Australia National Excellence Awards, to be judged in Brisbane on November 21.